Fall Down 관련 논문
UP-Fall Detection Dataset: A Multimodal Approach
https://www.mdpi.com/1424-8220/19/9/1988
Vision-Based Fall Detection with Convolutional Neural Networks
https://www.semanticscholar.org/paper/Vision-Based-Fall-Detection-with-Convolutional-N%C3%BA%C3%B1ez-Marcos-Azkune/07c3904c8c36bef110ab6fdf00129637fae35349
Fall Down Datasets
1. Multiple Cameras Fall Dataset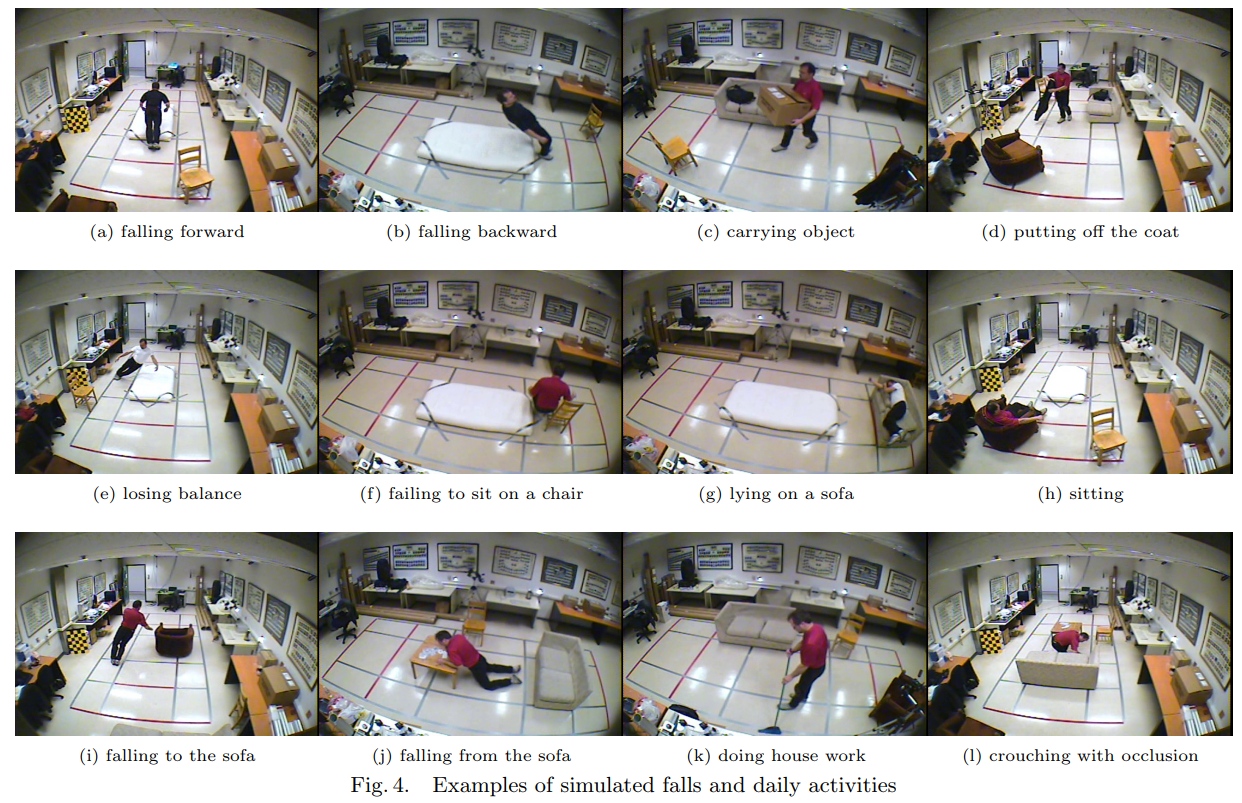 http://www.iro.umontreal.ca/~labimage/Dataset/
관련 논문
Hung, Dao Huu, and Hideo Saito. "Fall detection with two cameras based on occupied area." Proc. of 18th Japan-Korea Joint Workshop on Frontier in Computer Vision. 2012.
2. Fall Detection Dataset
http://le2i.cnrs.fr/Fall-detection-Dataset?lang=fr
Coffee Room 1, 2
Home 1, 2
Lecture Room
Office 1, 2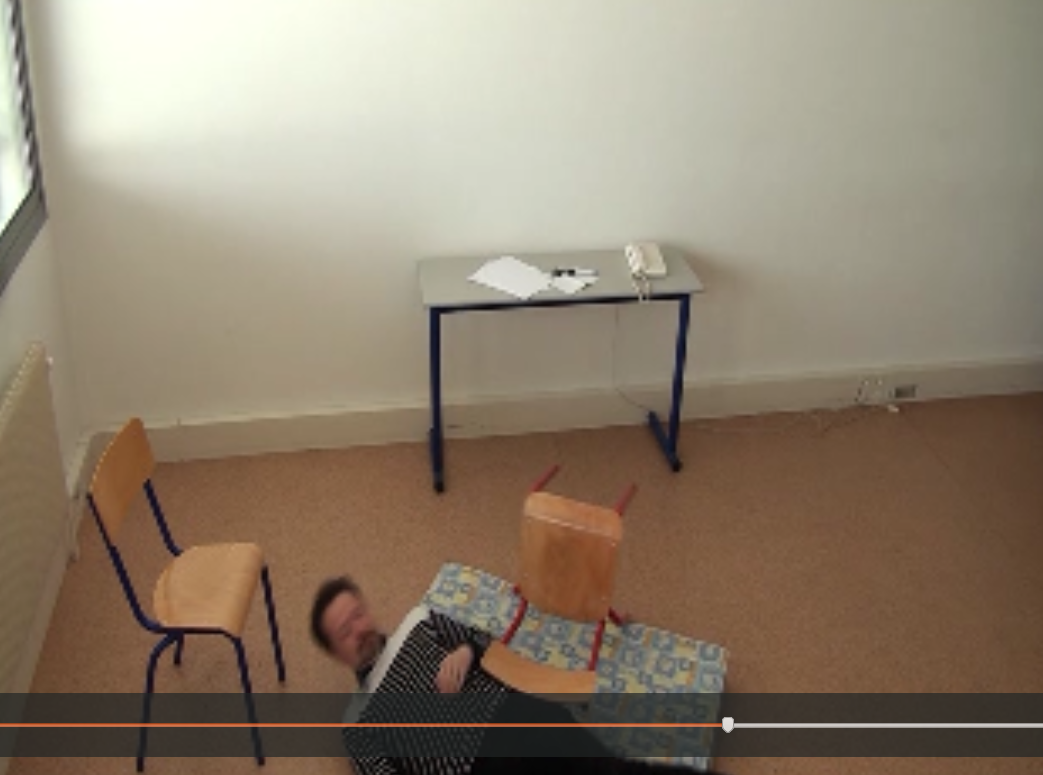 3. UR Fall Dataset
http://fenix.univ.rzeszow.pl/~mkepski/ds/uf.html
1. Daily Living Sequence
2. Fall Sequence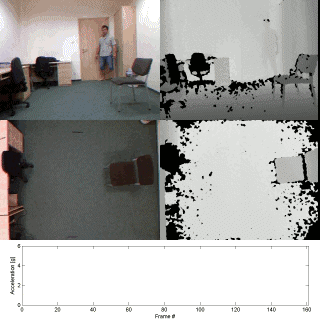 4. MultiMultiple Pose Human Body Database (LSP/MPII-MPHB)
(링크 수정됨, 2021/01/11)
http://parnec.nuaa.edu.cn/_upload/tpl/02/db/731/template731/pages/xtan/MPHB.html

LSP + MPII 에서 추출한 Lying Dataset
5. CAVIAR Test Case Scenarios
http://homepages.inf.ed.ac.uk/rbf/CAVIARDATA1/
Rest_FallOnFloor 데이터 포함
6. UMAFall: Fall Detection Dataset (Universidad de Malaga)
이 데이터세트는 일련의 미리 결정된 ADL(Activities of Daily Life)과 Fall(쓰러짐) 행동을 담았으며,
19명에 의해 생성되었다. 관련 논문은 다음과 같다.
Santoyo-Ramón, José Antonio, Eduardo Casilari, and José Manuel Cano-García.
"Analysis of a smartphone-based architecture with multiple mobility sensors for fall detection with supervised learning."
Sensors 18.4 (2018): 1155.

Casilari, Eduardo, Jose A. Santoyo-Ramón, and Jose M. Cano-García. "UMAFall: A Multisensor Dataset for the Research on Automatic Fall Detection."
Procedia Computer Science 110 (2017): 32-39.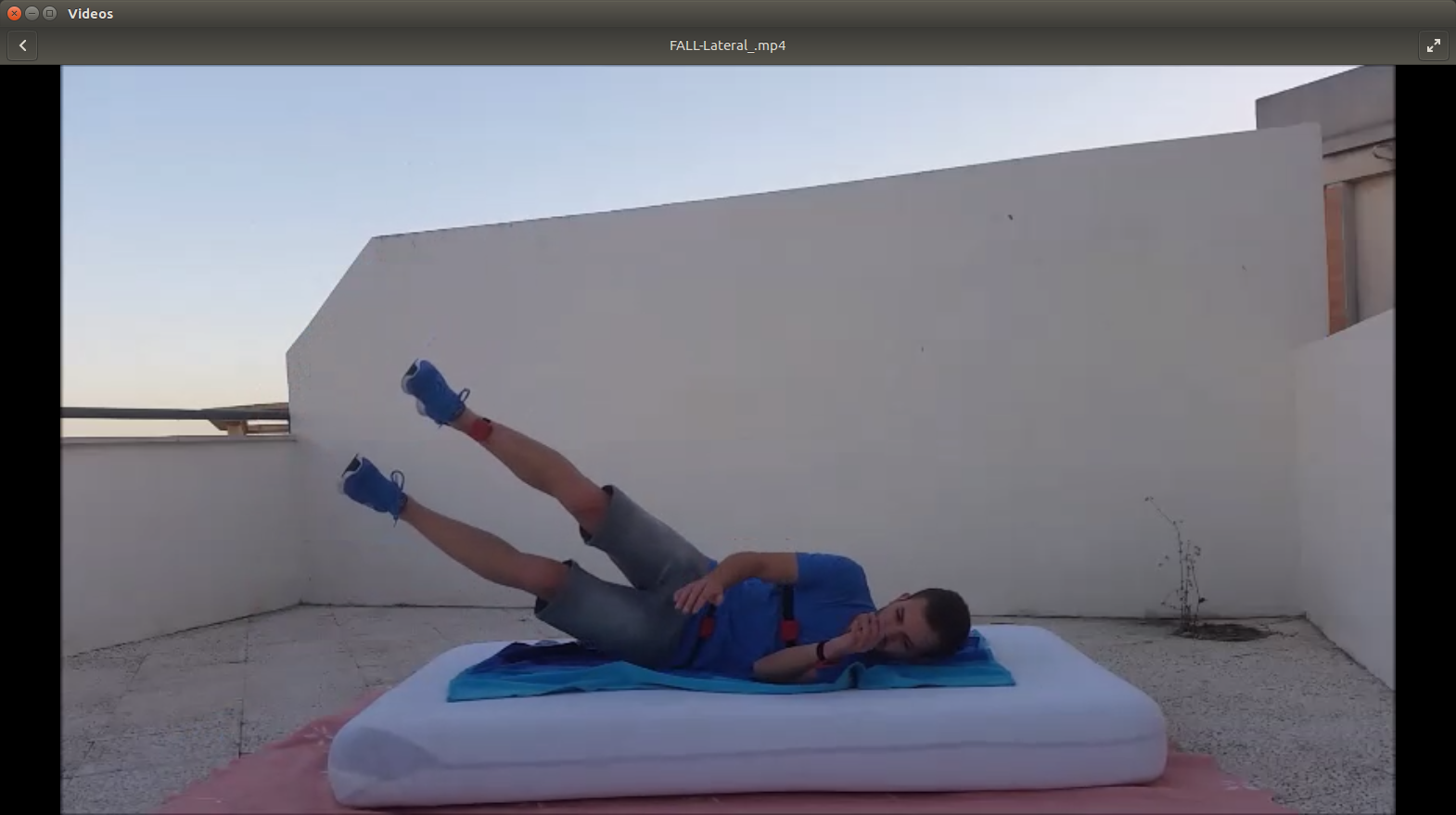 https://figshare.com/articles/UMA_ADL_FALL_Dataset_zip/4214283
7. Fall Data Set (RGB + Depth)
RGB 영상 뿐만 아니라 Depth 영상까지도 포함한 쓰러짐 데이터 세트이다.
kinect 센서는 2.4m 높이에서 고정되어 촬영되었으며, 데이터 세트에는 총 21,499 장의 이미지로 이루어진다.
22,636장 중에서 16,796장을 train, 3,299장을 val 로 사용할 수 있고, 2,543장을 test set 으로 사용할 수 있다.
데이터 세트의 이미지는 8개의 서로 다른 화각으로 구성된 다른 방에서 촬영되었다.